The Livingstone Room
Enjoy an elegant dining experience at the recently refurbished Edwardian style Livingstone Room at the The Victoria Falls Hotel.

Guests can choose from a 7 course degustation menu or the a la carte menu complimented by an extensive Diners Club Gold Award wine list.

The dress code has been relaxed in line with the times so a jacket and tie is not longer obligatory. The dress code is smart, with a collared shirt and closed shoes for men being sufficient, however no jeans, sandals, sneakers or safari gear are permitted.

This is a chance to dress up and enjoy the charming ambiance. Ladies may wear sandals as befitting the outfit.
Considerable effort has been made in the passed couple of years to make the dining experience at The Victoria Falls Hotel the best on offer in Victoria Falls.


Quick Facts


A maximum of 120 people can be accommodated in the Stanley Room.


Dinner is served between 19:00 and 21:30 pm daily.




Closed on Sundays

.
To make dinner reservations
Jungle Junction
Set within a beautiful corner of the Victoria Falls Hotel gardens. Jungle Junction serves breakfast and dinner each day. The venue has a magnificent view across to the Victoria Falls Bridge and the spray of Victoria Falls.


Quick Facts
Breakfast is served between 06:30 and 10:00
Dinner is served from 19:00 to 22:00 accompanied by African traditional music entertainement from 19:30 to 20:15


Seating for 120 guests.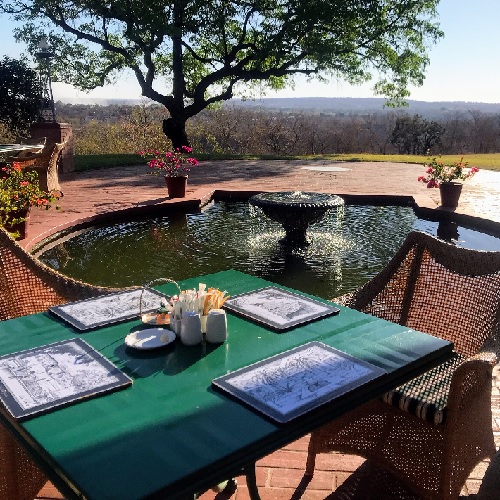 Stanley's Bar
The cosy Stanley Bar is just the place to enjoy an intimate pre dinner interlude. Try one of the signature cocktails, a chilled local beer or the homemade lemonade. Quite simply the perfect place to end a perfect African day.


Quick Facts
Open between 08h00 and 11h00
Seating for 12 guests
24 hour room service
Guests can choose from an extensive selection on the rooms service menu, available to guests at any time of the day or night.
Pool
The poolside bar serves a full selection of both non alchoholic and alchoholic drinks. Light meals are served under the shade of the thatched umbrellas.
Quick Facts
Drinks are served between 10h00 and 18h00
Barbeque lunch is available between 12h00 noon and 16h00
There is live entertainement each lunch time


Seating for 70 people